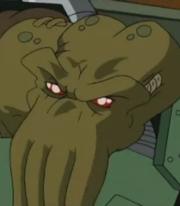 The Glorft Commander is Gorrath's immedate subordinate. He seems to have an inferiority complex and is often scared of his commanding officer. His most common reaction when approached by Gorrath is to cower in fear and plead "Not the face!"
Ad blocker interference detected!
Wikia is a free-to-use site that makes money from advertising. We have a modified experience for viewers using ad blockers

Wikia is not accessible if you've made further modifications. Remove the custom ad blocker rule(s) and the page will load as expected.