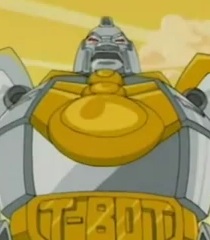 T-Bot was a robot who was one of Coop's challengers in "The Return".
Biography
Edit
T-Bot would often speak in a rude rhyming tone saying things such as "T-Bot will pounce you! Trounce you! And utterly denounce you!". He later tried to attack Magnanimous when he learned he lied about the cash prize.
Ad blocker interference detected!
Wikia is a free-to-use site that makes money from advertising. We have a modified experience for viewers using ad blockers

Wikia is not accessible if you've made further modifications. Remove the custom ad blocker rule(s) and the page will load as expected.